Patriot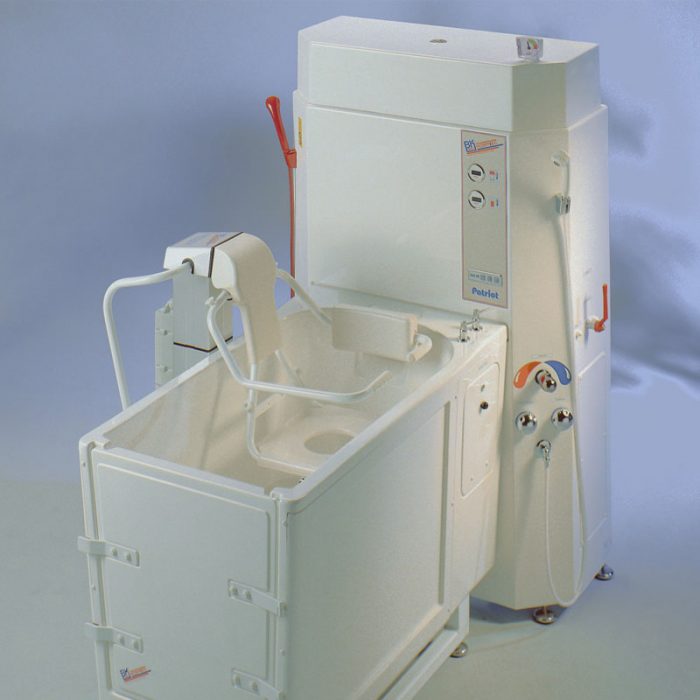 More images
Patriot
The seat tub Patriot enables care-needing people to bath or shower easily. The large front door with integrated maintenance-free sealing and security-locking mechanism enables the nursing staff to transfer the patient in a safe and easy way using the Senta bathtub hoist. The optional integrated reservoir ensures the most economical bathing procedure since the tub is filled within 90 seconds, while the patient will be surrounded by warm water as quickly as possible.
Degrees of autonomy
Benefits
Review
Degrees of autonomy
Ambulatory, but may use a cane for support
Can support herself to some degree
Usually sits in wheelchair, but is able to partially bear weight on its legs
Sits in wheelchair. Almost no capacity to support herself and cannot stand unsupported.
Almost completely bed ridden. Passive resident, totally dependent and physically demanding for caregiver.
Equipment & degrees of autonomy (PDF)
Benefits
Benefits for nurses
Système de guidage facilitant le transfert de la chaise
Chaise d'accès à hauteur variable limitant les efforts
Douche sans éclaboussure ou bain complet
Occupe peu d'espace dans la pièce
Surface lisse pour un nettoyage facile et hygiénique
Benefits for managers
Concept unique permettant une grande efficacité du travail
Utilisation de composantes reconnues et de grande qualité
Conception institutionnelle
Pièces de rechange et entretien à faible coût
Benefits for residents
Intimité préservée durant la douche
Chaise confortable et sécuritaire
Intérieur ergonomique
Protections anti-brûlure pour le remplissage et la douchette
Benefits for technical servicess
Porte avec mécanisme très sécuritaire et robuste
Mélangeur thermostatique et robinetterie de haute qualité
Composantes de manufacturiers reconnus
Technologie bien établie et éprouvée au fil des années
Support technique par téléphone gratuit chez ConfortMédic
Review